How to take care of your dental implants
posted: Jun. 05, 2015.
Keeping your dental implants in good repair is simple, but extremely important. How do you protect your new restorations? Read on. 
The revolutionary technology behind dental implants may make them seem like high-maintenance appliances. Actually, their convenience is a large part of sets them above other methods of restorative dentistry at Hilton Head Dental Team in Hilton Head, South Carolina. Once the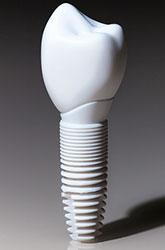 process is complete, they can be treated much like a natural tooth. However, taking care of your dental implants is of the utmost importance, both before and after your procedure. Here are some best practices that Drs. Julie Camp-Tome, Michael Eibling, M. Glenn Barker and Benjamin Thomas Wietecha recommend:
Properly proactive
After an oral health evaluation, your Hilton Head Island dentists will make the determination if you are a good candidate for dental implants. If you are, don't slack off on maintaining an oral hygiene routine before your implants are placed! The gum tissue and the surrounding teeth need to be healthy to accommodate the implant and promote healing after its placement.
Allow for aftercare
After surgical placement of the implant's post by one of the dentists at Hilton Head Dental Team, most patients find that they can go back to regular eating habits after a few days. It does take several months for the implant to integrate with the surrounding jaw bone; at this time, it will be strong enough to support the crown. In the interim, keep the implant site clean by brushing gently and swishing water in your mouth to rinse away any food debris. You can also rinse with a warm saltwater solution, but never disturb the implant site by touching it.
Tend to your teeth
Once your Hilton Head dentist has finished off your dental implant with a crown, the implant will be difficult to point out from your natural teeth. Its similarity also extends to its care - daily brushing, flossing and scheduling cleanings and checkups twice a year with the Hilton Head Dental Team. Avoid brushing with abrasive pastes, and never use your teeth, natural or restored, as "scissors" to open anything.
Dental implants are designed to last a lifetime if they are cared for properly. You can set the wheels in motion for dental implants by calling your Hilton Head Island dentist's office today.
Tags: Dental Implants