Dental Implants in Hilton Head Island, SC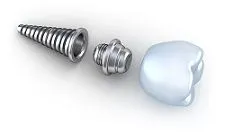 Missing a tooth can affect your confidence and can cause you to feel embarrassed or to hide your smile. Instead of hiding your smile, it may be time to consider dental implants as a tooth replacement option! Dental implants from your dentist at Hilton Head Dental Team can complete your smile and keep your smile strong for as long as possible.
How Dental Implants Can Help Your Smile
Dental implants are a durable tooth replacement that will blend in with all your other teeth and create a completely natural-looking smile. Dental implants are made up of a titanium post that is implanted into the gums and left to fuse with the jawbone. Once the implant has healed, it is then covered with a dental crown. The dental crown is custom-made to fit your smile and can be color-matched with the rest of your smile. No one will ever know that you were missing a tooth at all unless you were to tell them!
Dental implants are also beneficial because they can help prevent facial sagging from happening in your future. The titanium post helps to act just like the root of your natural tooth and provides stimulation to the gums. This stimulation helps keep the jawbone together and stops it from causing the face to sag.
Dental implants also function just like a normal tooth and can restore any biting ability that you may have lost. They are also easy to care for and care won't add any additional work to your normal routine. As long as you are brushing and flossing daily, your dental implant should last for years without any additional work.
Contact Your Dentist Today!
If you've struggled with feeling confident after missing a tooth, dental implants may be the right choice for you! Contact your dentist at Hilton Head Dental Team today to learn more about dental implants and if you're eligible to receive a dental implant!
If you are interested in getting dental implants to permanently replace missing teeth, call Hilton Head Dental Team in Hilton Head Island, SC today at (843) 681-9666 for a consultation!